Digital marketing channels are online platforms or avenues that you can use to contact your target audience with information about your product, brand, or service. By using these channels, you can assist your customers with any issues or inquiries they might have while also putting your brand in a strong position to achieve your marketing objectives.
However, not every digital marketing channel is suited for your specific business goals. Others are designed in different ways based on what they can achieve, while some are better suited for a specific audience. As a result, in order to meet your marketing objectives, you must first decide which digital marketing channel to use.
The majority of your objectives will most likely have to do with lead generation, brand awareness, conversion rate optimization, a boost in revenue etc. The key to achieving this is using the right blend of channels to meet one or more of those objectives.
Here are the five best digital channels for businesses: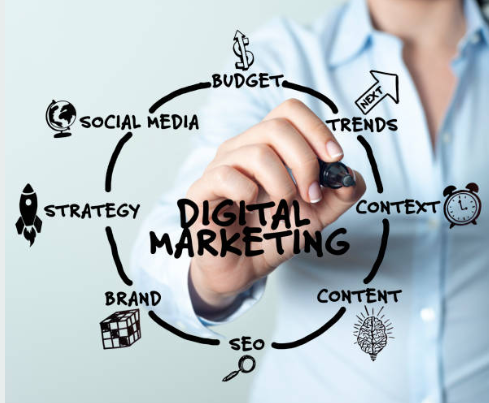 5 Top Digital Channels
1. Pay-per-Click Marketing (PPC)
At first glance, it may appear unthinkable that pay-per-click marketing or search engine marketing has the capacity to yield ROI. The reason is that you have to pay for every click you receive, in direct contrast to SEO, which allows potential customers to find you freely and organically.
One great benefit of PPC marketing is the increased online visibility because your ads are displayed at the top of search result pages. Although you will incur payments each time your ad is clicked on by searchers, there is still plenty of monetary value to be received from this type of marketing. Placing your ads atop organic results ensures that you still draw the attention of interested searchers before they have the opportunity to check your competitor's page.
Averagely, you can enjoy a profit of $2 for each dollar you allocate to Google Ads. That is a 100 per cent return on investment. However, the reverse is the case, as not taking advantage of the PPC channel can cost you a 50% decrease in revenue.
Furthermore, studies have shown that PPC can drive better conversion than organic channels. There is no denying that PPC marketing can result in a no-lose result for your marketing initiatives.
How PPC Can Benefit Your Business
Brand awareness and visibility. Since your ads are showing up atop search result pages, your brand will enjoy faster visibility and awareness.
Lead Generation and Conversions. Similar to SEO, potential customers are seeking solutions to their challenges. However, PPC marketing is less stressful and time-consuming.
With PPC ads, you can tailor your ads to show up on the radar of interested buyers according to their location or demographics without the technicalities of on- or off-page SEO.
Read: Best 7 Small Business Marketing Ideas to Boost Traffic & Customers
2. Email
Email marketing channels remain a powerful generator of medium to high returns on investment for businesses. One of its biggest benefits is versatility. Even though it has been around for years, it remains highly functional today because it lets you incorporate the most recent developments in content marketing, like customization, the use of AI and automation, and no-code technologies, at a budget-friendly and affordable rate.
It is unsurprising that over 60% of digital marketers report that email is their preferred channel for lead generation, conversion rate optimization and revenue boost. This is because email marketing has the capacity to serve other marketing goals.
How Email Marketing Can Benefit Your Business
Lead Nurturing. You can send emails to customers and prospects to "nurture" a relationship or connect with them. This will help establish trust and ultimately lead to purchase.
Brand awareness and conversion. Since customers and leads receive emails directly in their inboxes letting you send branded and promotional content to meet your marketing goals. For this reason, email is excellent for generating conversions and finally results in increased profitability for your business.
Return on Investment. Studies have revealed that email is the number one channel that yields the best ROI among any marketing strategy.
3. Social Media
This list will be incomplete without social media marketing. First, it is home to over 4 billion users. Second, it is a platform for growing personal relationships, and businesses can utilize it to foster emotional bonding, engagement and awareness for their customers.
Nowadays, you can get in touch with prospective customers by interacting with them in a more individualistic and social manner. For this reason, it's much simpler to centre your marketing efforts on social media because the platform was built to facilitate genuine interactions instead of conversion.
As you strive to grasp the interests and preferences of your audience persona, you have to focus on connecting with your target market. This will, in the end, lead to generating qualified leads, whether on Facebook, Twitter or Instagram.
Even though this can ultimately result in sales, never forget that marketing on social media doesn't revolve around sales alone, so make sure you invest in establishing a robust, productive relationship with your customer base.
How Social Media Can Benefit Your Business
High customer engagement. Social media has an atmosphere of friendliness and sociability. Thus, it provides an avenue for establishing a connection with your target market. Through social media, you can augment your brand image by adding names and identities to faces. This will assist in "humanizing" your business, allowing your customers to bond deeper with your brand.
Wide reach. Social media posts are easily sharable, offering more opportunities for word-of-mouth referrals, which is key to increasing your customer base. Better still, marketing your content on social media is affordable.
4. Organic Search (SEO)
Studies have shown that every second, a whooping 63,000 searches are carried out on Google. On a daily basis, Google processes over 7 billion searches. Because millions of people depend on Google for research, commerce and leisure, the marketing possibilities are enormous.
When customers or prospects do a search for services or products, they usually select the option that appears higher on the SERPs (Search Engine Result Pages). Through SEO (search engine optimization), your website and online pages can have better organic visibility and a steady stream of high traffic. This will result in better lead generation throughout your purchase funnel.
SEO entails implementing strategies that boost the possibility of your website or web page showing up in a prime position on SERPs. These strategies include keyword optimization & research, the use of backlinks, internal linking practices and improving your overall user experience.
How SEO Can Benefit Your Business
Better ranking on SERPs. Since search engines are primarily utilized to generate information when researching for services or products, creating content that follows SEO best practices can skyrocket your pages to the top of SERPs.
Link building. As your website begins to rank highly on SERPS, reputable websites will start linking to your pages.
5. Websites
Websites Your website is a highly important marketing channel for any business because it offers an avenue to create awareness and enlighten audiences about your products and services. This entails strong insight into your target audience and a solid content marketing plan.
A website is a good way to offer your business the web presence it requires to engage with and market to prospective customers. No matter the size and scope of your business — B2C, B2B, service-oriented or online retailing — having a website is mandatory.
A website is a perfect platform to carry out content marketing projects. By setting up blog posts and releases, you can offer current and prospective customers important and topical content to assist in proffering solutions to their pain points. Since websites are equipped with multimedia functionalities, you can share a variety of content like visuals, animations, videos and articles.
Now that the world is navigating to a content-consuming phase, developing a blend of these kinds of content will greatly boost your traffic and engagements. This will lead to improved brand awareness, reputation building and better revenue growth.
Read: Why A Website is Best for your Small Business
How website/content marketing Can Benefit Your Business
Boost traffic. If your website has informative, topical and quality content that showcases your expertise, people will inevitably access your pages.
Lead generation. As people visit your website, it shows that they have an interest in your business solutions. They are prospective customers and are likely to make purchases in the future.
Contact us today if you need assistance with these digital channels and many more.